Latest News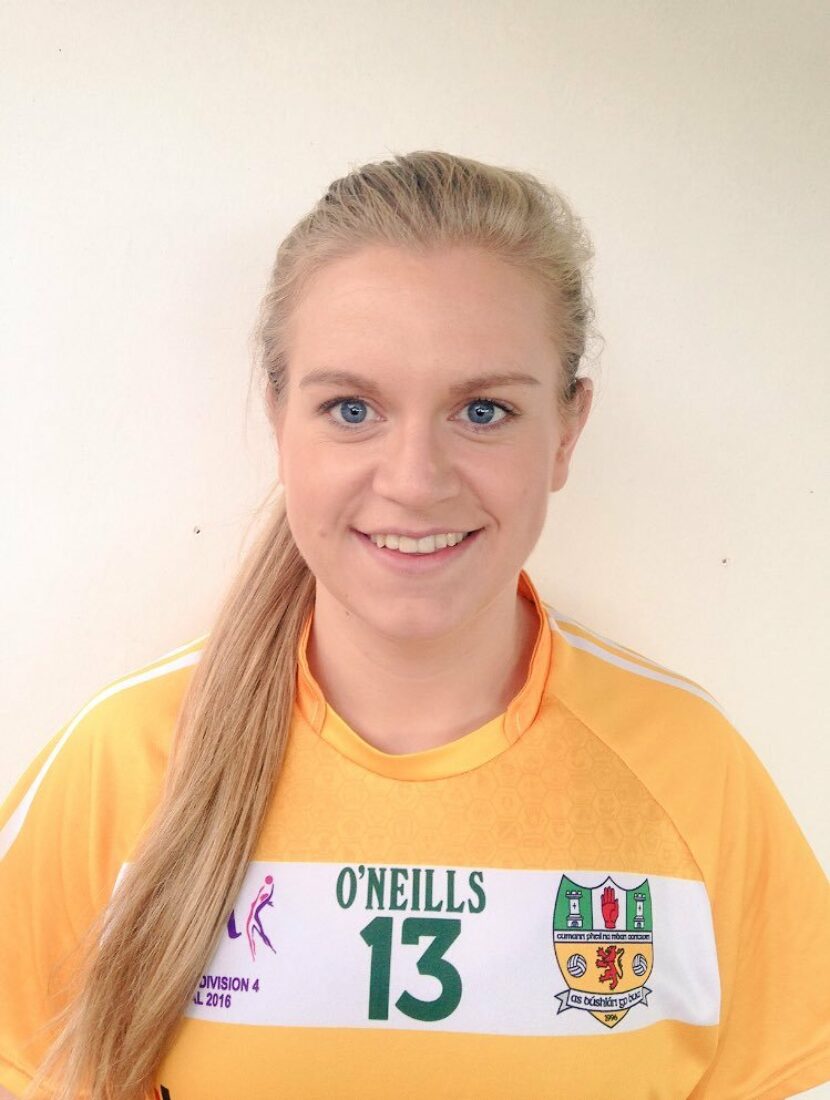 1 minute with ....Antrim Senior Footballer Eleanor Mallon
24th March 2018
1 Minute with.................  
Name: Eleanor Mallon 
Club: St Ergnat's Moneyglass / Erin's Own Cargin 
Favourite Position: Either wing half back or wing half forward. 🤷🏼‍♀️ Terrible at marking though. Not great at shooting either ... 
Favourite Pitch: Cargin's front pitch 🙌🏼
Hobbies: crossfit, eating, Tumbledowning at weekends, etc. 
Childhood hero: Lightening from Gladiators and CJ from Baywatch
Best Player you have played with: Deirdre O'Kane 🤥
Best Player you have played against:  Deirdre O'Kane back when I played for Creggan! 
Best game you have been involved in: beating Charleville in the 2005 junior colleges all Ireland semi with St Mary's Magherafelt. 
Drawing the all Ireland senior final in 2007 with st Mary's too, and eventually winning it 2 weeks later. 3 ridiculous games!! 💙
Best game you have ever seen: Some of the lads from Down played a game of American football through our living room & kitchen using an empty bottle of woodpecker as the ball. Circa 2009. Great viewing! 
Best trainer within the Current Antrim Squad:  Heard Seamy McKenna was good. But I'm not there enough to judge 🙈
Best motivator within the Antrim squad: this goes to the St Galls girls - Gaga and Steph 👍🏼 Jenny too, but her high pitch squeals go through me!! 
Any superstitions: absolutely none. 
Favourite Film; my answer to this never changes - Walt Disney's Robin Hood😍
Favourite Holiday Destination: Byron Bay or hunter valley 🍷
Favourite Meal: pizza! 
Best advice ever received: I was recently told to mix some honey in with my cuppa tae. Game changer folks. 
Biggest influence on career: unfortunately, i would have to say pizza again here🙈🐷🐸
Club Volunteer of note: Cathy Carey. Loves the oul ticket selling. Always a delight to deal with. 
Song you listen to before big games: For the rest of my life, I will be listening to the Greatest Showman soundtrack before everything! 
Most important skill: being able to breathe with a gum shield in 
Biggest Strength in your game: bulldozing through people with the ball
Area of your game you would like to improve: maybe less bulldozing without the ball 
Which club do you like to see do well apart from your own: Cormac McAnallens in Sydney 
Which county do you like to see do well apart from your own: Dublin Ladies
Advice for youngsters: kids, if you really want to succeed in sport - don't ever live in the holylands... and obviously have fun & listen to your coaches! 
Best thing about ladies GAA: Making fwends xoxo
---
Share This Story