Latest News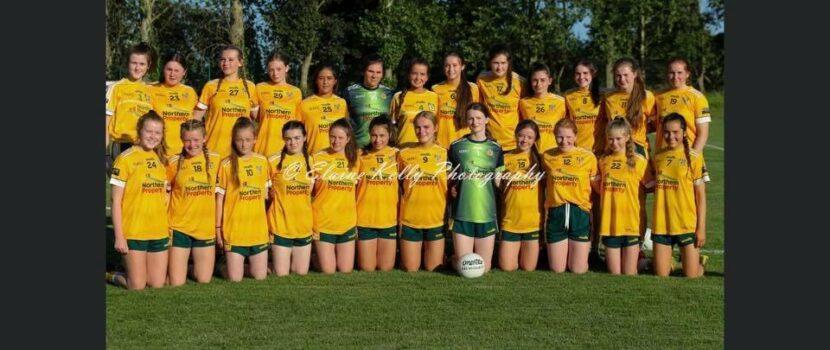 Our ladies book their place in the Ulster u16 Championship final.
25th July 2021
Antrim County U16 girls book their place in the Ulster Championship final on Saturday 31st July.
Match report from last weeks game by Anna Bradley
On a hot evening in Cargin, temperatures rose not just because of the sun. An exciting match and the crowd were sweating just as much as the payers.
Donegal started the scoring off with a point from their nippy 15, Mary Anne Ward. Antrim responded the stronger, as impressive Orleigha McGuinness struck in a goal a minute later. This was the start of a brilliant performance from the Antrim number 10 and a dominating first half from the home side.
Saffron full forward, Bronagh McGuinness, pointed her first free and a following point from Ciara Maguire brought the score line to 1:2 – 0:1 to Antrim within the first five minutes. However, despite the full forward's strong running, Antrim's shooting went awry and there was to be no other scores before the first of four water breaks.
Although Antrim's running and team play were strong, their shooting let them down. Nonetheless, it was good football to watch as their defenders tackled well and started attacks off by turning the ball over. Number 6, Sarah O'Neill, in the full back position was particularly noteworthy. As was the running ability and work rate from their roaming number 3, Gemma McGroarty.
Donegal's Nicole McDaid at number 11 tried to break her team's dry spell, but was unfortunate to be blown-up for too long just as she sent the ball over the bar. A testament to Antrim's good defending.
Before the next score of the match, brilliant saves from both goalkeepers, Emily McCoy (Antrim) and Isla Gallagher (Donegal), great off-the-ground 45s from both teams, and a hailstorm of very soft frees occurred. It was not until the 26th minute, after the second water break, that Antrim's Maguire took another point.
Her teammate, Caoimhe McErlain, who put in a good shift up and down the pitch, was denied a score by great defending from Donegal's Orla Molloy and Ulitah Boyle. Nonetheless, Antrim were undeterred as Maguire kicked a long 45 and ultimately finished off that play with a goal.
Things then went from bad to worse for the visitors. Their management, frustrated by a yellow card shown to Katie O'Dowd for a foul along the sideline, was put outside the wire. Even when O'Neill rattled Antrim's net, it was bitter sweet as this was to be the last score of the half for Donegal.
Antrim though finished the off strongly; Orleigha McGuinness put two more points to her name and Maguire took her second goal. The first half finished 3:5 – 1:1 to Antrim, which did not reflect the amount of play the home side had.
The second half started in the same trend as the first finished. Orleigha McGuinness won a green kickout, danced around green and yellow jerseys, then struck home a goal within 50 seconds. After a wide and a shot straight at the keeper, Antrim got another point from their number 10. To this she added an assist, passing the ball off to Maguire who stole her third goal. Not too bad for 5 minutes work.
However, this brilliant start for the Saffrons was to be short lived, as Donegal stuffed their defence, found their fight and their next gear. A good run from the hard-working Cara O'Loughlin culminated in her midfield partner, Eva Gallagher winning a rebound and putting the ball over the bar. Donegal's brilliant third quarter was just starting.
A free was given against Antrim's Aileen McDonnell, half of a very active midfield duo, for a great hand-in tackle. Donegal made use of Antrim's misfortune and O'Loughlin's free kick lobbed
four yellow jerseys to fall into Antrim's net. This seemed to inject electricity into both sides- players and supporters alike, and Cargin's ground really came to life.
Donegal got the next four points within three minutes, their number 21, 14 (Tara Geoghan) adding their names to the score sheet and O'Loughlin adding two successively to her name. Antrim's woes were only to increase, with unpredictable frees being given and the hard-working midfielder Aoife Kelly being unfairly show a yellow card. Her fingers taped up, Kelly made what looked like a great interception, but the referee apparently thought otherwise.
Bronagh McGuiness' converted free five minutes later should have settled the Saffrons. Yet, the next three scores came from the visitors. After a series of poor passing and impressive tackling from both sides, Donegal's Geoghan and O'Loughlin got points respectively. The final water break came at the right time for the home side, as Donegal were on top of their game, playing brilliant football. Although Donegal's Gallagher scored her side's third goal a few minutes after the break, this was to be the last score for the visitors.
Gallagher was soon unfairly sinbinned for her third foul and the return of Antrim's Kelly and McGroarty gave the home team the boost they needed. Though it cannot be said for certain, the return of McGroarty, who had a stormer of a game, boosted her team enough to reclaim the momentum of the match. O'Neill in Antrim's defence continued to impress, and a great run between Cliona Logan, Clodagh McPeake and Ciara O'Boyle ended in a calming point 25 minutes into the half.
Both teams continued to battle hard, although neither were overly brilliant at judging the bounce of the ball, but a pointed free from Saffron Bronagh McGuinness finished off the scoring. This game that started with a one-sided first half, finished with thirty-five minutes of exciting football.
---
Share This Story