Latest News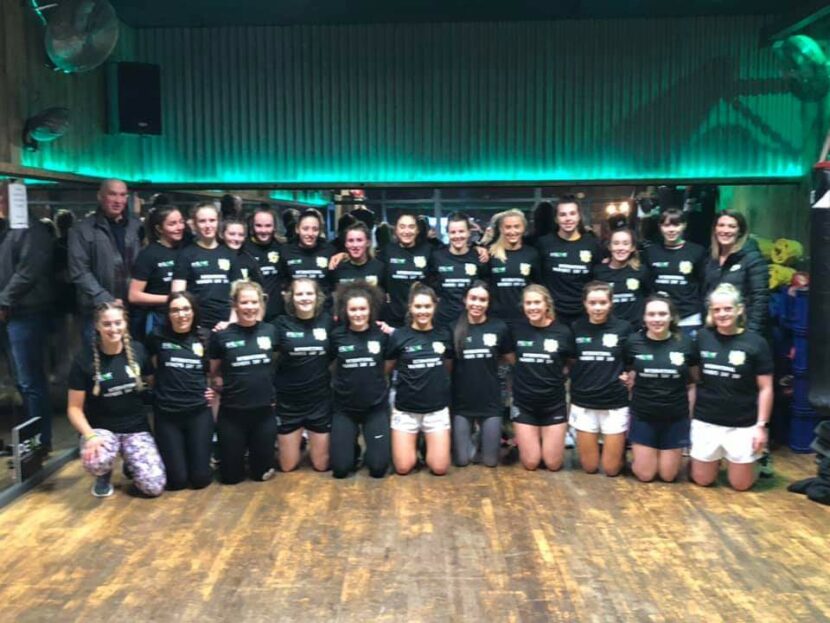 Raff's Saffs #IWD2019
13th March 2019
March 8th – International Women's Day

It's taken a few weeks to pull this altogether, but it was well worth it. We had 44 County Players at Peak Physique for a joint training session. Peak had agreed to give us full use of the venue and we definitely took them up on the offer, having a session in the studio and a second one on the gym floor. The girls were definitely put through their paces and the event was thoroughly enjoyable. 

Thanks to our Sponsors Tony and Declan, who were present at the event and presented the girls with their IWD memento T-Shirts. 
Thank you to Ciaran Kearney who spoke to the group at the start of the evening. He talked about the need for mental preparation ahead of games and how form could affect performance. 


Paul Donnelly of Gaelfast, also attended the event and spoke to the girls about the Gaelfast approach in Antrim. He advised that we are the only county looking at an All County, All Codes approach. I believe that this is the only way that Antrim should be going. Let's show the rest of the Country what we Saffs are made of. In the words of our sponsor "We lead, others follow". 

Paul completely took me unawares, when he announced that he would be presenting a Gaelfast Jersey to me and Saoirse Tennyson – County Senior Captain. For anyone that knows me, I don't do well with surprises. I prefer to have everything planned out so I know what is going on, so this really threw me. It was a fantastic gesture and very much appreciated. 
However, as most of you are aware I'm absolutely Antrim Ladies through and through, but I am actually an Armagh girl. I thought Saoirse would appreciate keeping the shirt, not to mention that it was a small and "probably" not going to fit me 🤣 I'm sure it will look much better on her anyway. 

We invited Maureen Stewart, Winner of the Naming Competition down to collect her prize. I presented our beautiful goalkeeper jersey to Maureen's son Conor. I have to say there were a lot of great names suggested, but Raff's Saffs felt very personal to me and what I am trying to do with Antrim Ladies. That being said, don't be surprised if some of the other suggestions make it on to our posts as hashtags. As you all know Debbie and Ciara love a good hashtag.

Last year on International Women's Day we held a website and jersey launch. Maria Hanna gave a fantastic speech and I decided to rope her in again this year. She did not disappoint. Maria is a strong young woman and fights for what she is entitled to. Her inspirational speech touched me as well as the younger players in the room. She is a great ambassador for women in sport.  
Maria talked about being called a 'tomboy' growing up and I'm sure there will be plenty of young girls out there who have experienced the same, my youngest daughter for one. Maria outlined that women don't want to be treated in the exact same way as men, but that it is about distinguishing the differences without being treated inferior. "Feminism isn't about making women stronger, women are already strong. It's about challenging the way the world perceives that strength'

As we move forward with all our kits having our own badge, we donated the last of the old crest kits to Laura Bannon for her Zambia trip. Laura has worked tirelessly for the county for a number of years in different roles and we couldn't think of a better recipient for this kit. The kit was presented to Laura by County Senior Players Orla Corr and Abigail Carleton, who have previously made the trip to Zambia. We look forward to seeing the kids in Antrim Jerseys later this year.

I would like to thank everyone who participated and supported the event. It was important to me that we marked the occasion and I feel it went very well. I have to say I slept like a log that night.
Stay tuned for the last part of this week's update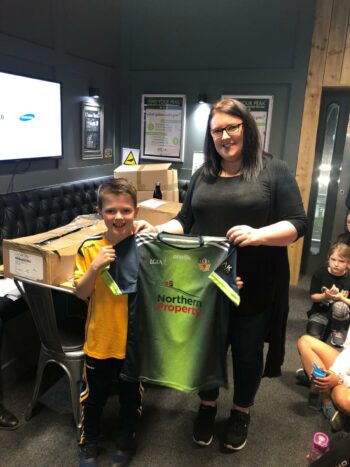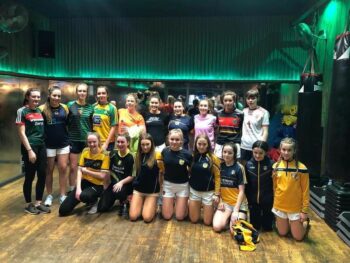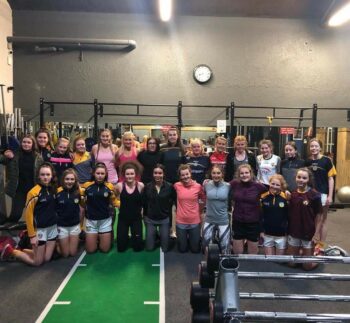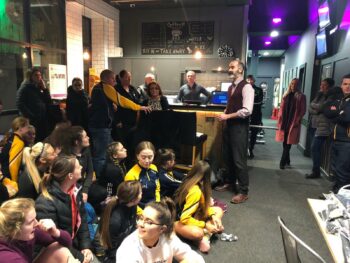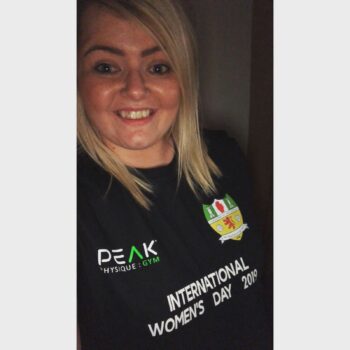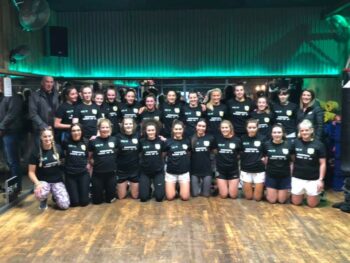 ---
Share This Story