Latest News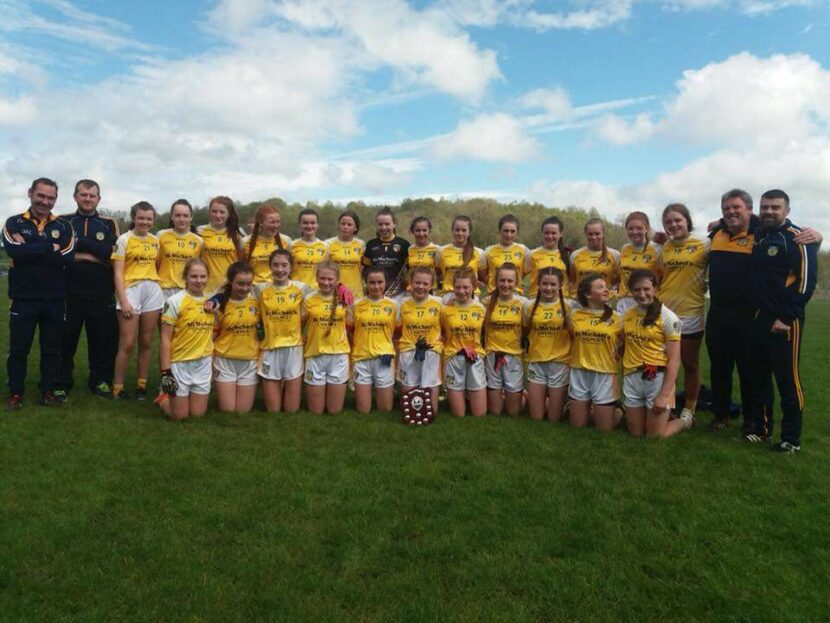 Ulster B Championship U14 Ladies Final
7th May 2018
Truagh Gaels club Monaghan was the venue for Ulster finals day with Antrim coming up against Down in the first game. After a disappointing result v Monaghan the previous week the saffron ladies had been instructed that they must get into top gear from the first to last whistle. Playing against a stiff breeze in the first half it was evident that our ladies were very much focused and determined to improve from the previous week. A low scoring first half with our defence only conceding 1-2 against the wind was evidence of yet another super defensive display from the Saffs. A fast-flowing move found Alyssa Davidson playing in Full Forward for the first time and the roll didn't phase her as she finished the well worked move by hammering the ball into the Down net. A well taken point from Bláithín Nic Cathail and another from Alyssa had the HT score 1-2 v 1-2.
The second half began and after 5 minutes it was clear that the hard work from the first half was going to pay off as this young Antrim side started and ended on the front foot. Dominating most of the possession our girls found their shooting boots which at times this season had been astray. Alyssa added another two points with the second score an absolute beauty. Bláitín added another 1-1 to her tally and Maria O'Neill scored 1-1. Erin Flannery came off the bench and within a minute fired the ball hard and high into the down net. Niamh Bellew restored to centre midfield had a very impressive game and knocked over 3 second half points. Carla McKenna finally got the score that her efforts and running deserved with a well taken goal. Down to be fair to them battled to the end and managed a score from a free to end the game Antrim 5-9 v 1-3 Down.
ULSTER CHAMPIONS!!!! 
Semi final v Westmeath up next!
Aontroim Abú!     
---
Share This Story