Latest News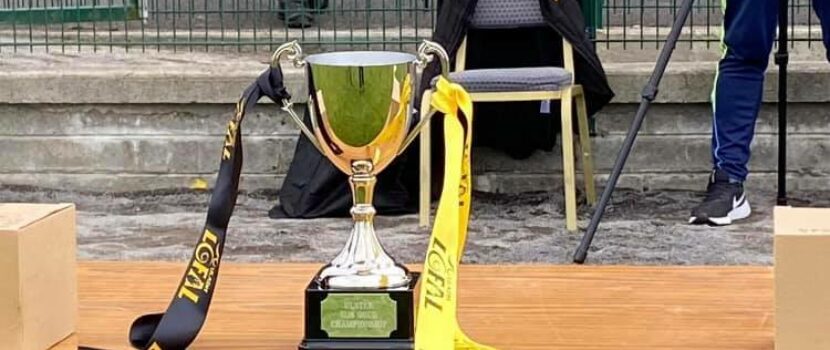 Our ladies are Ulster U16 Gold Championship Winners!!!!
31st July 2021
Congratulations to our U16 Ladies who won their Ulster Championship final today against Cavan.
Final score:
Cavan 3-9 Antrim 3-14
The Antrim u16's, who are a well gelled team coming off the back of their Platinum win in 2019, again faced Cavan in an Ulster final yesterday. Cavan got off to the quicker start with a point within the first minute from Sinead Livingstone. However, Antrim soon settled into the game with some very strong plays from Orleigha McGuinness, Aoife Kelly and Sarah O Neill who began to dominate possession. A foul on Aoife Kelly gave Bronagh McGuinness, the sharp Saffron shooter, her first opportunity of a pointed free, which she casually slotted over the bar.
Both sides started strong but Antrim's runners through the middle were beginning to cause Cavan problems.
The team spirit and bond within this young Saffron side was quite evident from their work rate and passing. Quick and clever runs off the shoulder showed their ability as footballers and their determination. It was clear to see the Antrim girls wanted the win!
A lovely point by Niamh McKinley followed by a goal by Clodagh McPeake kept the Antrim scoreboard ticking over nicely as Cavan continued to breathe down the Saffron necks.
Emily McCoy, arguably Antrim's best player in the first half, was on point with some amazing saves that kept Cavan at bay.
Cavan, however, kept piling on the pressure, but with three wides and two missed goal opportunities within nine minutes, they were surely making life difficult for themselves.
At this point, Antrim were playing fast paced and free flowing football. Some lovely interceptions from Gemma McGroarty and Sarah O'Neil, really steadied the ship at the back.
After Emily McCoy seeing a lot of goal mouth action in the first quarter, it was Amy Mellar's turn. With a confident clearance after a well gathered ball on the line from a Saffron free that dropped short, Amy proved their were two good keepers in action in Butlersbridge.
Unfortunately an injury to Antrim's Caoimhe McErlain incurred a lengthy stoppage in play. An unpleasant scene for the Antrim side, especially, but as she made her way off the field on a stretcher, both sets of players and supporters applauded. A lovely gesture. Alicia Boyd entered the field of play as her replacement and soon made her mark on the game.
Cavan kept the fight going hard and finally got their reward with a fine goal from Ellie Beady. There was another quick Cavan counter attack which almost resulted in another goal, but of course, out comes Emily McCoy to deny the shot.
Ella Boylan pointed for Cavan in a bid to narrow the gap, quickly followed by yet another Breffni attack on goal. With a little pull and drag from Sarah O'Neill in the Antrim full back line, the referee awarded the penalty. Sarah Clarke made no mistake and hammered the ball to the back of the net.
There's nothing like a little fire in the belly to get things going again for Antrim. A great exchange of the ball between Tierna Elley, Aileen McDonnell (capt) and Ciara Maguire, resulted in a cracker goal scored by the latter.
More beautiful play between Antrim's Clodagh McPeake and Ciara Maguire earned another score on the board followed by another pointed free from Bronagh McGuinness.
Antrim's Niamh McKinley grabbed a third goal for the Saffron's, which supersub, Alicia Boyd followed up with a point to bring the first half to a close.
Antrim 3:6
Cavan 2:4.
No changes were made to either side for the the second half, which got off to a lightening start. Less than a minute in, Cavan's Hannah Coleman nailed the first score. Didn't take Bronagh McGuinness to get in on the action, however, as she kicked her third free over the bar.
Antrim's Sarah O'Neill put a serious shift in, constantly battling for possession and making life difficult for the Cavan forwards. Along with the rest of the Saffron defence, their interceptions and turnovers were key in a lovely spell of football for the Antrim side.
Two yellow cards and sinbins for Cavan, left them in quite a vulnerable position and with Antrim on top already, they capitalised with more scores from Boyd and McGuinness.
As Cavan struggled to make use of their possession, both goalkeepers were called into action with great saves. However, the frustration in the Breffni camp was starting to show. More fouls were being committed, some harsher than others, but it allowed Antrim to creep further in front.
Cavan fought hard to get back into the game and they very much deserved it. A lot of good play was rewarded with scores and in a period where they knew time was of the essence, they turned the heat up and gave Antrim a real battle.
The Saffron's made a few changes with Cliona Logan replacing Clodagh McPeake, who had an excellent game. And Orlaith Lennon who came on to replace Tierna Elley.
More points exchanged by both teams made the last quarter of this game a very exciting affair.
Antrim's Tiarnach Fegan kept the pressure on her opponent she made some good interceptions. Sarah O'Neill was again instrumental in the Antrim defence which led to attack after attack.
As the game drew to a close, Antrim kept possession of the ball very well. An unfortunate Cavan error then led to an eighth point for Antrim's Bronagh McGuinness! A huge tally for the youngster.
In a final effort to change the outcome of the match, Cavan hammered down on goal several times; their first attempt was saved brilliantly but the ball was blasted home on their second attempt, which no doubt had Antrim fans watching on with their hands over their eyes!
Naoishe Naoise McCrory came on for Antrim's Aoife Kelly in the last few minutes to help Antrim over the line. Whilst the final push from Cavan was an incredible effort, it was just too little too late. Antrim are the Ulster Gold Champions 2021!
We were treated to a great game of football by both teams. Some excellent individual performances from both sides including superb free taking and shot stopping. But ultimately, the team work and composure shown by Antrim sealed the deal for Justin and the Saffron girls.
Match report by Debbie Murray and her editor.
Special thanks to Elaine Kelly Photo's for the fantastic photos which captured the day!
#U16Saffs 🟡⚪️

---
Share This Story