Latest News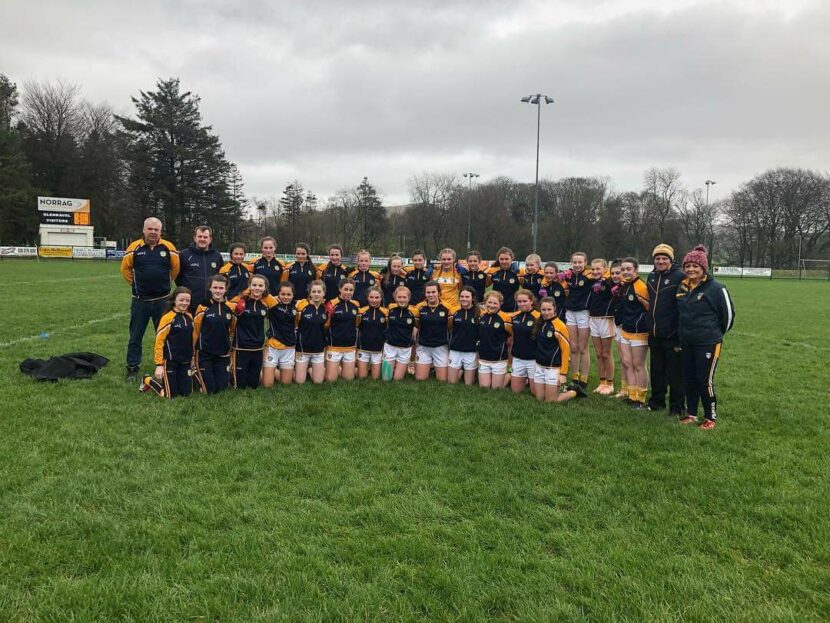 U14 Festival of Football Round 1
6th March 2019
Antrim U14 Ladies got their season up and running on Saturday in conditions that were not for the faint hearted. The wind and rain battered down on a miserable day at Father Maginn Park Glenravel. 


Thankfully the young saffron ladies didn't let the weather dampened their attitude and commitment to the Antrim cause as every single one of them put their heart and soul into every tackle, pass, block and shot. 

First up was Antrim v Down and within 10 seconds from the throw in Antrim had a one and one with the Down keeper, the keeper won the battle with a great stop to keep out a great Antrim move. This was to be the start of a more sustained period of great Antrim forward play as attack after attack resulted in score after score. A commanding lead was established to go into the break 6-4 v 1-0.
Credit to Down who came out in the second half and really gave it their all, however after such a dominant first half the result was never in doubt and it finished up 8-8 v 2-2 win for Antrim.
Fermanagh v Down was the next match and it was a very tight encounter that ended in a one point win for Down.

The final game of the day saw Antrim take on Fermanagh, with Fermanagh just off the back of such a tight encounter with Down to face a confident Antrim team. The Antrim ladies started the match like they started their first match with high intensity. The score board after the first 5 minutes didn't reflect the attack play from Antrim however in the remaining minutes of the half the young saffs scored an impressive 2-10 to lead 2-10 v 0-0. With both squads having now played 60 minutes of football in the wettest conditions thinkable the second half saw both teams going through the motions and both squads and supporters were glad to hear the final whistle. FT Antrim 6-11 v 1-0 Fermanagh.

On behalf of the Antrim management we would like to thank every single young Antrim lady from 1-30 who didn't let the horrible conditions dampen their spirits and put in a terrific display. We would also like to wish Down and Fermanagh all the best for the rest of the season. And not to forget a big thank you to Con Magees for hosting the games.
---
Share This Story